TUP.WMS
Warehouse Management System
The Benefits For You, At a Glance
Smooth Process Flow From Goods Receipt To Goods Dispatch, With Very Stable System Performance And Quickly Implementable Service Potential
Combination Of Various Picking Forms For Efficient Order Processing
Transparency In All Warehouse Movements And The Order Workflow
Comprehensive Control Panel Functions For Effective Planning, Monitoring, Control And Optimisation Of Business Processes
Minimisation Of Logistics Unit Costs Through Economical Processes
You Rely On A Tried And Tested System That Has Won Many Top-Class Awards.
Incoming Goods
This is the start of the whole process chain in the warehouse. The data collected here forms the basis for all further processes. Its accuracy determines the quality of all subsequent processes. This is why correct processing of incoming goods prevents costs being incurred during the subsequent process.
TUP.WMS offers flexible, solid solutions right from the start. Intelligent software makes all this possible:
Data Collection
Recording Of Couriers, Vehicle Data, Delivery Data, Times, etc.
Manual Or Automatic Recording Of Logistics Master Data (e.g. Scales, Scanner)
Shipment Recording With Or Without Notification Of Dispatch
Automatic Identification Point Or Dialogue-Based Goods Collection
Recording Of Series/Batch Numbers And Expiry Dates
Recording Of Individual, Part Or Complete Deliveries
Monitoring
Notification Of Dispatch And Delivery Monitoring: Delivery Date, Quantities, Goods, Quality, Excesses Or Shortfalls.
Quality Assurance And Plausibility Check While Processing Clarification Cases.
Control
Manual Or Automatic Destination Allocation With Various Flexible, Adjustable Storage Strategies:
– Logistics Master Data: Weight Of The Loading Unit, Geometric Dimensions Of The Loading Unit
– Physical Parameters Of The Storage Areas
– Allocation Of The Items To Warehouses, Warehouse Groups, Warehouse Zones
– Priorities Of Warehouse Zones, Rack Levels, ABC Distribution
– Warehouse Structure Defined In The Stock List
Buffer Area Allocation
Storage Shutdown Options
Generation Of Transport Orders For The Material Flow Computer Or For Manual Process Steps
Wi-Fi Connection For Mobile Data Collector-Guided Processes
Process Control For Internal And External Returns
Labels And Documentation
Automatic Or Manual Printout Of A Goods Receipt Document: LE And LTG Labels, Barcodes, Storage Assistance
Customs Declarations
We will always adapt our software module groups to your processes. The complexity and level of automation are thus customised to suit your incoming goods department.
Storage
Unused storage space wastes potential, while too little storage space reduces output. This is why the choice of warehouse size and strategy is crucial for your efficiency. The WMS from DR. THOMAS + PARTNER offers you many possibilities for customising your warehouse:
Warehouse Configuration
Professional Administration Optionally Based On The Fixed Location Principle With Flexible Shelf Allocation, Or By Employees
Manual Or Automatic Warehousing And Stock Removal
ABC Storage, Storage By Lot
Replenishment Strategies For Order Picking, e.g. Kanban Stock Removal, Precautionary Replenishment, Statistical Replenishment
Quality Changes, Quality Blocks
Single Or Double-Layer Storage
Warehouse Types
High-Bay Racking
Pallet Storage
High-Bay Warehouse
Automatic Mini-Load Warehouse
Paternoster
Automatic Cardboard Box Warehouse With Optimised Routes
…And Much More
Stock Transfer Strategies
Stock Transfer Between Warehouses, Sites, Areas And Containers
Packing Or Stock Transfer Of Pallet Parts
Returns Containers
Stock Transfer Status Tracking
Automatically Generated Stock Transfers To Optimise Warehouse Space – In Manual And Automatic Warehouses
Blocks
Site, Warehouse, Warehouse Zone, Storage Area
Loading Equipment, Items
Batch, Serial Number, Delivery
Order, Order Item
Stocktaking
Stocktaking Throughout The Warehouse, In A Warehouse Area, In Part Of A Warehouse Area Or In A Storage Area
Item Stocktaking
Stocktaking Based On The Date Of The Last Stocktake
Automatic Locking Of Stock Involved In Stocktaking
Printout Of The Count List And A Difference List (After Entering The Stocktaking Results)
Automatic (Permanent) Stocktaking
Order Picking
Order picking lies at the heart of your distribution centre. This is why we want to understand your structures and requirements first before we plan and implement your customised order picking system with you. Order picking brings goods and orders together. The two information flows need to be synchronised at precisely this moment. The choice of order picking system therefore has a major influence on response times and costs. Shortest path selection is the top priority, as order picking takes up a major proportion of the manual processes.
Our warehouse management system opens up many opportunities for you here:
Order Picking Types
One-Stage, Two-Stage Or Three-Stage Order Picking
Manual Sorting And Picking
Pallet Or Individual Part Picking
Pick And Pack, Man-To-Goods, Goods-To-Man
Batch Processing
Support For Various Access Methods (FIFO, LIFO, Expiry Date, Date Of Delivery)
Processes For Promotional Goods, Value-Added Service
Individual Part, Golden Box Or Shipping Box Picking
Control
Routes By List, Mobile Data Collection, Pick-By-Light Or Pick-By-Voice
Order-Related, Endless Dynamic Or Batch-Oriented Routes
Automatic Generation Of Transport Orders Or Manual Process Steps
Automatic, Precautionary Or Master Data-Based Replenishment
Ergonomic Distribution Of Consignments
Zero-Crossing
Sorter Connection
Forklift Guidance System Connection
Wi-Fi Connection For Mobile Data Collector-Guided Processes
Monitoring
Dispatch Status Tracking From Activation
Control-Panel-Compatible Data Models, Interpretability, Monitoring Of Activities, Status And Progress
Permanent Stocktaking
Labels And Documentation
All Types Of Order Picking Documents, Labels, Lists And Statistics
Assembly And Preparation
The assembly and preparation stage aims to bring together, inspect or finish items/parts. This may involve:
Kit Assembly
Enclosures
Display Packaging
Completion
Special Handling/Labelling, Price Marking, Ironing
Pre-Assembly Processes With Return To Stock Option
Assembly Line Supply Units
Finishing Orders
All necessary elements are implemented in close coordination with your processes.
Packing
TUP.WMS produces packages that suit your requirements.
Processing flexibility is high:
Pick And Pack
Sorter Packing
Carrier Selection In Accordance With The Shipping Strategy
Carrier According To Client Strategy
Direct Provision Of Whole Boxes To The Packing Centre
Final Quality Control
Completion Check
Restocking
Packing Station Processing
Assisted Selection Of Packing Material
Pre-Packaging And Accessories
All necessary elements are implemented in close coordination with your processes.
Outgoing goods
Packages pass through various processes in the outgoing goods department – and these depend on the carrier, outgoing relations and variety. At the core, all of them are alike in that the packages for a shipment have to be loaded by the time of departure. If picking takes place in numerous warehouse areas, all of the parts of a shipment are brought together at the latest in the outgoing goods department.
The WMS offers a variety of functions for outgoing goods:
Consolidation
Consolidation Of Individual Shipments
Consolidation Of Goods For A Customer Order
Sorting By Country, Shipping Type And/Or Routes
Cross-Docking Support
Route planning
Creation Of Lorry Routes
Optimal Loading Type Depending On Volume (Parcel Services, Forwarding Companies)
Creation Of Shipping Documentation
Monitoring
Outgoing Goods Inspection
Tracking & Tracing
Export And Customs Handling
Maintenance Of Customs Tariffs
Printing Of The Necessary Customs Documents For Exports
Connection To The Customs System For Data Transfer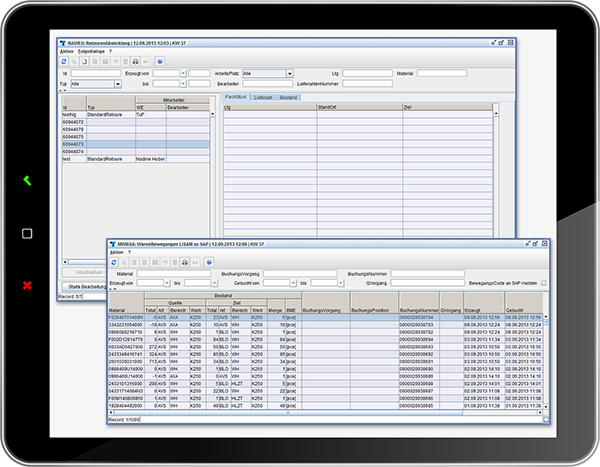 Tailored, Intelligent Solutions
Imagine that you would like to buy a car, but there are only two models to choose from: the first is developed and built entirely to your specifications. You get your dream car. Delivery time, costs, safety? Almost impossible to calculate. The second model has been made on an assembly line for years, is available quickly and is significantly cheaper, but you don't have any choice: everything is standard, from engine performance to interior fittings and colour. An average car. Will one of the cars be a hit?
Intralogistics IT has been facing this very problem for some time: standard solution or customised solution? Following years of intensive research, we are now breaking new ground with our technology and combining the best of both worlds: the greatest flexibility with maximum security are the key parameters in our adaptive software. The warehouse management system from DR. THOMAS + PARTNER epitomises this approach. It maps all of the processes in your warehouse, both simple manual stages and expansion stages, with the maximum level of automation and the highest outputs.
The Fastest Warehouse Management System Of All Time
Up to 1.75 times faster with the WMS from TUP
A Balanced Mix Of Innovative And Standard Elements
As the underlying processes in every distribution centre are the same or at least similar, yet widely differing demands are placed on them, we have developed our TUP.WMS as a modular IT system. We start with a standard platform with basic services and add exactly those IT modules that are specifically required for your inventory management – and no more. From incoming goods, storage, order picking, assembly and packing through to outgoing goods, everything is possible. If you would like to expand your facility at a later time, we simply add the components required for this – exactly when they are needed. The economic benefit for you is enormous: you only buy what you actually need. The tried and tested, standardised components also guarantee a high degree of reusability and easier adaptation for later expansions.
In this way, you actively reduce your investment and the project duration.