TUP.MES
Manufactoring Execution System
Just A Few Of The Functions
Browser-Based Production Data Collection Dialogues For Static And Mobile Equipment
Master Data Management
Authorisation Control Using Team Allocation
Support For Group Bonuses
Registration With Personnel Barcode
Recording Of Performance-Related And Performance-Free Activities
Interfaces To Upstream Systems:
– Personnel Administration (ERP)
– Logistics Computer And Sorter
Interfaces To Downstream Systems:
– Activity-Based Costing
– Incentive Wage Accounting (ERP)
– Controlling
The Benefits For You, At a Glance
Maximum Transparency
Easy Collection Of Key Performance Indicators
Allows Incentive Wage Accounting
Automated Data Collection
Performance-Related And Performance-Free Activities
Target-Performance Comparison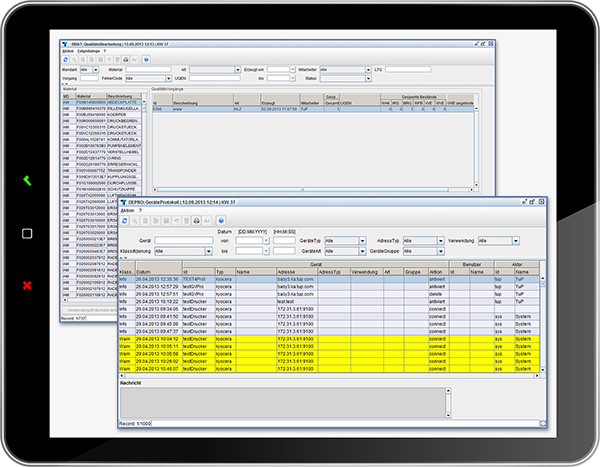 Manage Everything In One Place
TUP.MES is the link between manufacturing and intra-logistics. The system captures operational data as a basis for analysis and planning. The results help support internal procedures and the implementation of future process optimisations. TUP.MES will give you a clear view of performance at all times.
There are many parameters that can influence internal process performance. The right decisions can only be made if exact data can be captured in an uncomplicated way. TUP.MES offers simple, user-friendly controls to achieve the required process transparency.
Data is captured with stationary or mobile devices running Android, iOS or Windows operating systems. Depending on application, an automated data capture could also be implemented.
The information gathered here will also be useful for further processing in networked systems.