nExtCOMbag®
E-commerce causes packaging waste
Besides major logistic challenges the growth in e-commerce also imposes a heavy burden on the environment because orders are often shipped in oversized packaging. In summary: The fifth part of any shipped goods is nothing more than air.
The solution that faces any challenge
Fashion retailers especially face seasonal fluctations and short-time peaks in the order structure. The employees have always to be "on demand" and the shift managers must deal with higher organizational effort in re-organizing staff schedules – often within a few hours.
Bye bye plastic bag, welcome nExtCOMbag®
Where possible, online retailers have already changed their packaging from oversized cartons to plastic bags. With nExtCOMbag®, we can replace plastic bags, save space and protect the environment!
Green packaging fully automated
Because of the high variance in the size and combination of ordered goods the packaging department is difficult to automate. Flexible paper bags achieve automated packing processes – and this is eco-friendly.
Major benefits
Especially for online retailers with high-throughput this technology offers high economic and ecological potential. Fully automated packaging systems results in less staff management and can easily react to swings in the order structure.
Flexible load based on fully automated module steps.
Dynamic demand with performance flexibility factor of FIVE.
From 1800 items (one module) to 9000 items (5 modules) per hour throughput.
From 1125 to 5625 orders per hour with ONLY a handful of staff instead of needing several people for
conventional manual carton packaging (based on pocket sorter system supplied by the customer and
therefore consolidated orders).
ROI from 1 year payback to less than approx. 5 years payback.
nExtCOMbag® getting to the heart
nExtCOMbag® is most capable for fashion concerning textiles and shoes rather than flat packed goods. The investment for this machine will – regarding a dynamic throughput up to 9000 items per hour – be amortized within a short period due to lower personnel costs.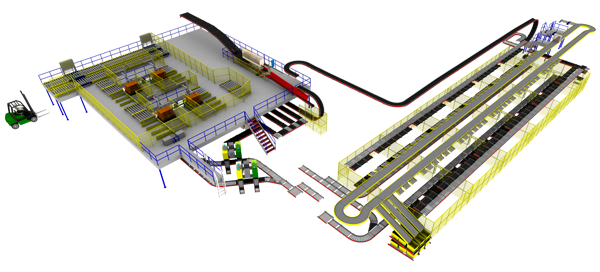 nExtCOMbag® – economic, sustainable and environmentally friendly e-commerce logistics. Fully automated paperbag-packaging to challenge order structures with heavy peaks and waves.
DR. THOMAS + PARTNER presents nExtCOMbag® – the solution for current e-commerce challenges that is based on paperbag-packaging. nExtCOMbag® is designed for fully automated packing with the features of: sorting, filling, document management, packaging material handling, marriage of the container and the packaging, the printing of the shipping label as well as the final volume optimized closing of single- and multi-pos orders. (up to 4-5 items per order).