TUP.MFC
Material Flow Control
The Benefits For You, At a Glance
Effective Use Of All System Resources
Cost Savings And Risk Minimisation Thanks To A Modular System
Maximum Flexibility And Quick Reaction Times For Later Expansions
Standardised Modules Guarantee Seamless Integration And A High Level Of Reliability
Transport Management Based On The Innovative SAIL Standard
How MFC Works
The live system is based on a static map of the conveyor, which is created and maintained independently on a configuration system.
This Map Consists Of The Following Data:
Installation Points
Paths (As The Directional Connection Between Two Points)
Schedule Items (That Define On What Path The Destination Can Be Reached From A Given Point)
All of the potential transport alternatives in the system are listed. The schedule items have a sort order that determines which alternative is to be given preference.
Based on this statistical data (system matrix) in comparison with a dynamic map of the system resources (the current operating status data), the most effective free resource is assigned to convey the goods.
All of this is made possible by a standardised core, which is independent of transporter and transport system-independent and can run on all common platforms. The modular structure enables further appropriate system expansions in other intralogistics areas.
SAIL, The Standardised System Architecture For Intralogistics
Material flow systems based on SAIL enable various subsections to be integrated with multivendor capability, using standardised functions and interfaces.
SAIL was developed as a cross-supplier concept, with the cooperation of DR. THOMAS + PARTNER, and then defined in the VDI/VDMA 5100 guideline 'System architecture for intralogistics (SAIL)'. Using this special methodology, we create a new standard which reduces complexity in project processing and makes the collaboration of project partners more efficient at section boundaries.
To this end, a conveyor was initially broken down by conveyor function, and the identified functions were then broken down into components. After this, the workshop standardised these components and the required interfaces.
In this way, SAIL maps the core functions of an intralogistics system and defines control-related standard functions and interfaces. However, in contrast to classic standardisation, SAIL is platform-neutral.
The Benefits For Manufacturers And Customers Are Obvious:
Ensure Function And Start-Up – While Also Minimising Risk
Transparency In All Project Phases
Transparency In All Functions And System Parts
Standardised Mapping And Definition Of All Intralogistics Tasks
Clear Definition Of Terms
Cost Reduction In The Quotation Phase
Increased Planning Security
Greater Flexibility For Plant Modifications And Expansions
Optimisation Of Your Forklift Capacities
Forklift trucks can at any time be assigned to one or more routing areas, from which they are then supplied with transport orders. This means that forklifts are kept in their areas of use. When allocating an order, the waiting time for the goods to be conveyed and then the arrival time for the transporter are taken into account according to transport priority. For each source point, it is possible to set whether the forklift driver is free to choose from the available transport units or not (stock removal from blocked transport units).
Specific systems are connected by exchanging request or report messages or using forklift radio terminals for dialogue.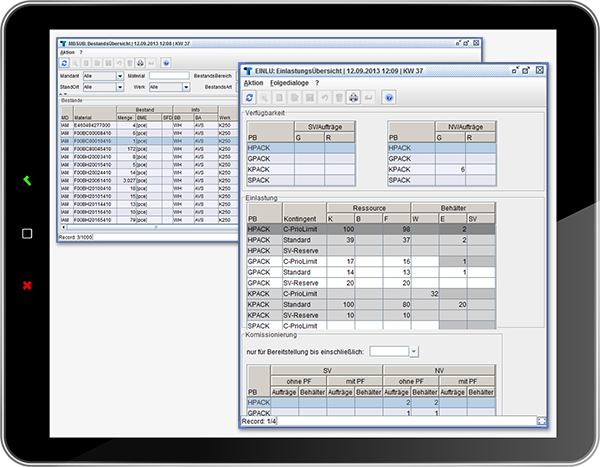 Always On The Shortest Path Towards Your Goal
When there is increasing price erosion due to global competition, every penny counts. An intelligent material flow control system makes comprehensive and optimal use of your resources. In particular, changing operating conditions are calculated very precisely so that your goods can be delivered correctly, completely and on time.
Our material flow control system calculates the fastest route through your conveyor system in real time and decides on the paths and responsibilities, always taking into account the available system resources. Your conveyor infrastructure is stored in the system, and the current operating conditions are evaluated. Together, this ensures you always achieve maximum utilisation. Each area of your plant can be linked, monitored and centrally controlled using standardised individual modules. Where required, our integrable control panel systems can also help you to coordinate your forklift trucks and transporters even more effectively and thus shorten holding and waiting times.
Like our TWS warehouse management system, TUP.MFC was developed based on the principle of adaptive software. It unites high-quality standard solutions with individually expanded software components; subsequently installed modules function easily and reliably in the existing system thanks to their special plug-in technology.
In short: this transport management system offers cost savings and minimises risk. We achieve additional added value through proficient standardisation at a high professional level. At the same time, the reliability and flexibility of the finished system are our hallmarks.
The architecture of our TUP.MFC is geared to carrying out the standard tasks of a material flow control quickly and without further dependencies on the WMS. However, it also nevertheless offers the opportunity to consider the current needs and conditions of the logistics processes online in the control strategies at any time at distribution or meeting points. In this way, we achieve a further boost in the usability of the conveyor.