TUP.MSF
Manual Sorter Fulfillment
The Benefits For You, At Glance
Greatest Possible Flexibility With Fluctuating Order Volumes
Increased Employee Motivation Thanks To A Varied Workflow
Optimal Utilisation Of The Facility
Performance, Output And Quality Of A Fully-Automated Sorter
Positive Environmental Impact
Areas Of Application
The manual sorting and picking module from DR. THOMAS + PARTNER is ideally suited to companies with heterogeneous item ranges and strong seasonal fluctuations in demand. It easily achieves the same performance, output and quality as a fully automatic sorter. It also offers you greater flexibility through variable personnel deployment.
Workflow
Utilisation and staff availability are monitored at all times at a control panel. This means employees are deployed to those areas which are currently understaffed. As a rule, one work quota is fundamentally defined for each picking instance. The threshold setting for this is crucial to the flexibility and profitability of the process.
The item data is reported back to the inventory management system following dispatch. This means that invoices can be drawn up for the orders in advance. Details are known as to which consignment contains which order and in what sorting compartment the order will end up.
The whole material flow is transparent, even without fully automated goods registration!
TUP.MSF makes it possible to drastically shorten paths during picking. There is no need to invest in a sorting and packing system. This enables flexible staff deployment that can be controlled depending on the order requirements. A further advantage is that, thanks to the quiet workflow of manual sorting and picking, there is no additional need for soundproofing, which also has a positive effect on the environmental impact.
Order Processing
Orders are divided into picking types as soon as they are received. The picking type is oriented towards the structural needs of the respective order, ensuring optimal utilisation. The orders are consolidated into picking batches and then sorted by order again in the sorting and packing system. As many orders as possible are included in one batch. Even when forming the consignment, the capacity of the sorting modules is taken into consideration in order to prevent bottlenecks.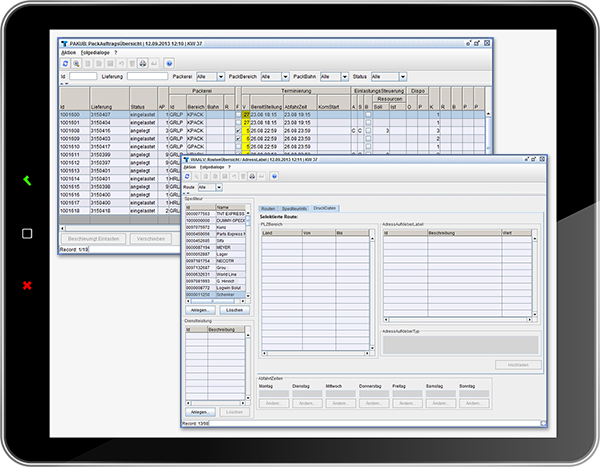 Knowhow Developed By DR. THOMAS + PARTNER
Fully automated sorting systems are not always the best choice, especially when it comes to heterogeneous item ranges and pronounced seasonal fluctuations in demand. This situation requires solutions that enable you to react flexibly to the order volume. Solutions that bring you an economic advantage. You only get your money's worth when you can make optimal use of your facilities.
This is why we have developed our manual sorting and picking module TUP.MSF. Manual sorting and picking takes responsibility for organising and handling the picking, sorting and subsequent packing processes. It is a software-aided, manual sorting system that achieves the same performance, output and quality as a fully automatic sorter. What's more, it offers you the greatest possible flexibility through variable personnel deployment.
Sophisticated technology enables you, for instance, to find the shortest routes when picking, and allows personnel-related bottlenecks to be identified in good time, so that additional employees can be assigned to the areas where there is a current need. The whole varied workflow is shaped into a fluid process with no hustle and bustle – from picking to packing.
Each person knows that they are making a contribution to the success of the whole operation – a motivating feeling.