TUP.WLD
Warehouse Logistic Dashboard
The Benefits For You, At a Glance
Optimised Output And Resource Utilisation
Clear, Graphic Depiction Of All Data
Comprehensive Process Overview, Progress Monitoring, Process Manipulation (Gather Or Split Orders) And Performance Overview (Output Per Channel, Employees Per Channel)
Optimal Transparency In The Warehouse
Ability To Specifically Select Performance Indicators For Improved Controlling, And Data For Weak-Point Analysis
Ergonomic, Intuitive User Interface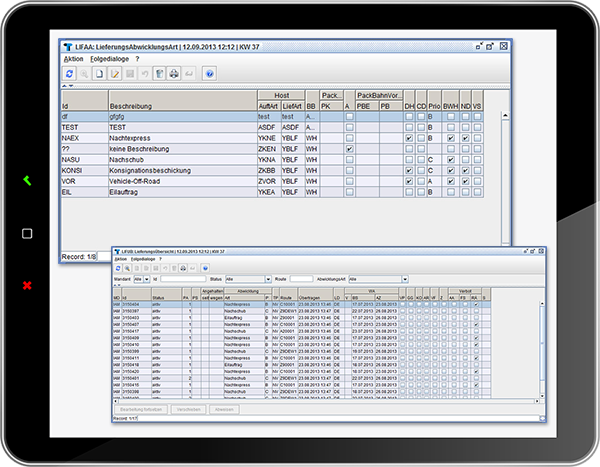 Everything At Glance With Our Control Panel
TUP.WLD acts as a supervisory mechanism for the transport control system and provides the necessary transparency for all warehouse processes.
Comprehensive control panel functions enable the warehouse to be monitored and managed effectively. You gain a graphical representation of the order pool, critical processes and your key performance indicator, or KPI for short. In this way, you can allocate employees according to capacity and ensure a smooth throughput. Even trends over time can be displayed to motivate the workforce or to measure performance for benchmarking. This increases output and improves the utilisation of resources.
To do this, the control panel function draws on data that is already available in the system, and represents this graphically. You can choose between different visualisations, allowing you to determine the ideal representation for each performance figure. Thanks to the modern, ergonomic user interface, all of the functions are easy to use.
Automated processes in particular require strong personalised warehouse management. Only this can control the logistics process and take targeted action when needed. Our software therefore provides the control panel with the necessary information and intervention options via clear, understandable parameters.
---
A Selection Of Performance Indicators
The System Offers You The Following
Order Structure Into Order Type, Size, And Number Of Picking Positions Per Order
Picks Per Day And Employees For Bonus Incentives
Employee Packing Performance
Error Rate
Capacity And Utilisation Of Warehouse And Warehouse Equipment
ABC Statistics
Warehouse Fill Level
Output As A Summary And Per Area
Number And Type Of Warehouse Movements
Stocks And Stock Changes
Supplier Quality And Number Of Cases Requiring Clarification
Order Lead Time
Warehouse Loss And Shortages
Space And Area Utilisation Ratios
Picking Rate And Costs Per Order
Warehouse Movements, Capacity Utilisation And Costs Per Warehouse Movement
Returns Rate And Reasons
Activity Recording And Key Performance Indicators With The TPI Module
The TPI (TUP Performance Indicators) module enables you to determine and evaluate a range of performance indicators that illustrate and support the cost-effectiveness of your warehouse.
Would you like your logistics system to be better controlled, or do you require the foundations for a weak-point analysis? Would you like to improve your performance using targeted benchmarking? In all of these cases, the TUP.WMS can make your work easier.
A variety of performance indicators can be directly determined by the logistics system. In this way, the information is fed back into the process as feedback at an early stage. For activity recording and displaying key performance indicators, there are a range of visualisation options to choose from. DR. THOMAS + PARTNER is happy to help you develop performance measurement systems or a data warehouse.
---
Forklift Control Panel
Functions At Glance
Adaptable To Suit Any Warehouse Topography
Batch Tracking Using Transport Feedback
Throughput Optimisation Using Manual Or Automatic Distribution Of Transport Requests
Flexibility Through Manual Or Automatic Order Prioritisation
Minimises Costs By Optimising Forklift Utilisation
Adjustable Strategies For Order Processing
Resource Optimisation Due To Forklift Staff Logging In And Out
Security Through Verification Of The Goods To Be Conveyed
Transparency Thanks To Order Feedback At The Storage Area And The Transport Report
Support For The Chosen Picking Form (Paperless Or Paper-Based)
Reliable Due To Automatic Replenishment Notifications With Zero-Crossing Or Permanent Stocktaking Support By Terminating Zero-Crossing Procedures
Features Of The Forklift Control Panel
Using barcode scanning, RFID tags and radio terminals, the TWS warehouse management system receives feedback from the forklift driver. This ensures that the order progress is seamless monitored. The forklifts are driven along optimised routes, and handover to the conveyor takes place without any problems.