E-Commerce Multichannel
The Benefits For You, At a Glance
Opening Of An Additional Distribution Channel By Integrating Static Retail
Brand Strengthening Through A central, Manufacturer-Optimised E-Commerce Site
Maximisation Of Goods Availability By Integrating Static Retailers
Cost Reduction Through Intelligent Process And Returns Management
Development Of Collaborative Business Relationships With Retailers
Image Boost Thanks To Sustainable Online Retail And 'Green Logistics'
E-Commerce Multichannel In Practice
The e-commerce multichannel software tool, for example, controls and manages the entire process cycle for e-commerce service provider gaxsys GmbH and ensures, via multichannel distribution, that goods are delivered reliably and quickly right to the client's doorstep and back again.
All DR. THOMAS + PARTNER's existing clients and potential new clients benefit equally from the experience and expertise acquired by DR. THOMAS + PARTNER in the e-commerce multichannel field.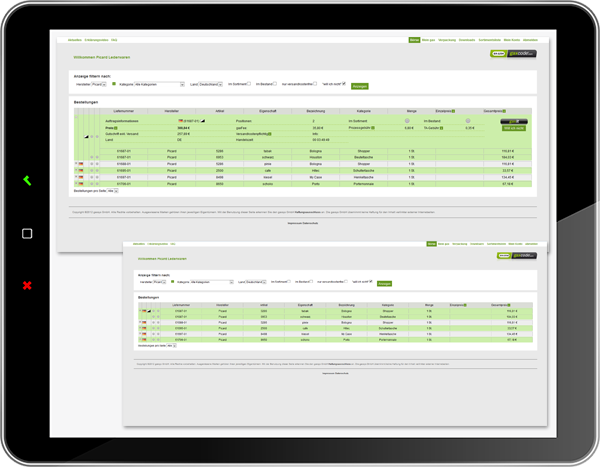 For our PICARD branded online shop, it was important to us to find an e-commerce solution through which our sellers could easily and reliably participate in PICARD online sales without having to develop an elaborate system themselves. We made the right choice with the g.a.x. system. We and our customers are very happy with it. picard-lederwaren.de
Online Meets Local – Point-Of-Sale Integration
With the e-commerce multichannel system from DR. THOMAS + PARTNER, brand manufacturers and retail chains can open up a new distribution channel and sell their products online – directly via their own branded online shop.
The special feature of this: the system integrates static retail into order processing from branded online shops and ensures sustainable, fast order fulfilment.
By using existing structures, the EMC system links up manufacturers, retailers and consumers via the IT management system. Orders are transferred from branded online shops to static retail via a global item exchange. Authorised specialist retailers can confirm what consumers want to buy from branded online shops and supply the orders to the desired address.
Find out more: www.gaxsys.com