The Advantages Of Online Support Requests
Transparent
After a one-time registration, you will be able to submit requests. You can track all support requests (by the date they were created). Each support request is assigned a meaningful processing status. This enables you to identify the processing status of your request at a glance.
Using the online customer support centre, or CSAM for short, provides you with a performance record and also allows you to track your maintenance costs in detail.
Efficient
The written CSAM requests are easy to allocate to a project team member. This means no administrative time is wasted when resolving the actual issue. The clear benefit compared with a request by phone: all requests in the CSAM online customer support centre are documented, and are accessible by all those involved. CSAM is set up in such a way that it can be accessed anywhere, any time.
The collected data can be used for data analysis. The analysis reports gained from this are ideal indicators of areas for improvement.
Platform-Independent
The user interface supports platform-independent access. It offers maximum speed, flexibility and ergonomics to users. Access permissions are also verified via the user interface, preventing unregulated access and ensuring that any use of the system is clearly regulated.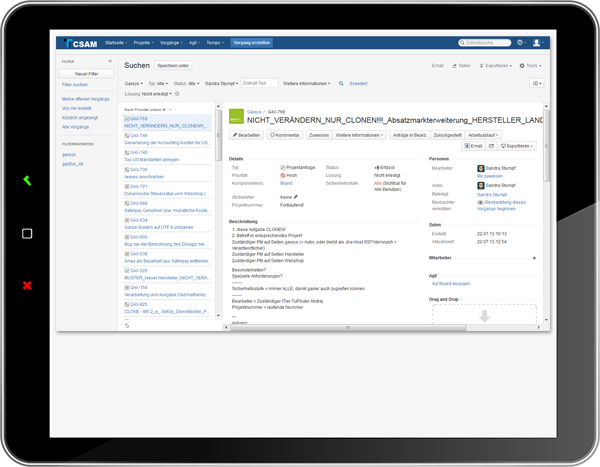 The DR. THOMAS + PARTNER Online Customer Support Centre
The CSAM (Customer Support and Maintenance) online platform is your online portal for support requests and forms part of the after-sales service from DR. THOMAS + PARTNER. CSAM makes communication more transparent and convenient. Maintenance issues can be dealt with transparently, quickly and therefore cost-effectively thanks to CSAM.